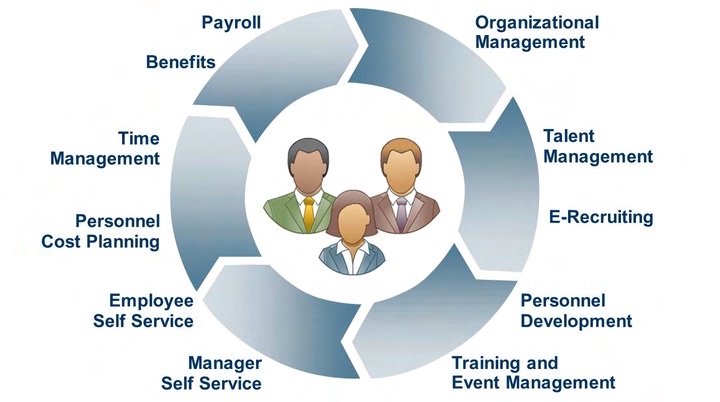 Human Capital Management (HCM) transforms the traditional administrative functions of human resources (HR) departments (recruiting, training, payroll, compensation, and performance management) into opportunities to drive engagement, productivity, and business value.
It's an organization's comprehensive set of practices used to hire, orient, train, and retain employees (as an intangible asset) through strategic and tactical practices, processes, and applications to maximize business value, which should be focused on organizational need to provide specific competencies.
Strategic and tactical competencies may include:
Administrative Support
Personnel, benefits, payroll, and rules and procedures administration
Employee self-service portal
Employee information management
Employee service center
Strategic and Tactical Support
Organization visualization
Workforce planning and contingent workforce management
Recruitment and hiring
Onboarding
Compensation planning
Competency, performance, and time and expense management
Workflow
Education and training
Reporting and analytics
Why Value HCM?
Employees spend considerable time each day contributing to the success of your organization. They can make or break the organization. Therefore, it's essential to acquire and retain high-performing employees.
Human resource professionals are responsible for creating and implementing ways to hire, orient, train, motivate, and engage employees. HCM plays a key role in helping your organization's human resources department increase the overall productivity and happiness of employees. And, when employees are happy and feel productive, they work harder and care more about the success of the organization.
What Are Some Challenges HCM Can Pose?
Organizations struggling with poor performance management, non-strategic workforce planning, weak usage of workforce analytics, mismanagement of organizational change, and the high cost of failing to solve challenges need to be driven by an overall purpose—fusing together strategic and tactical approaches.0
HCM needs to ensure that your organization is best prepared to anticipate challenges and quickly adapt to them.
While HR professionals may agree that strong workforce analytics are important to an organization, some fall short by not using meaningful metrics, such as Quality of Movement and Quality of Attrition. Workforce analytics involve identifying the current and anticipated future supply of labor and skills; recognizing what you need now and into the future in terms of labor, skills, and naming competencies (demand analysis); then identifying gaps between current and future supply and demand.
Mismanaging organizational change is another shortcoming. It's more important for HR to be proactive, rather than reactive, to avoid falling behind or failing to keep pace with sudden changes. Poorly handled change management causes employees' frustration, discomfort, disengagement, and a hasty search to reconnect with other, more meaningful frameworks in their lives. A fast-growing company can ill-afford the halting and even paralyzing effects of poorly-managed change.
Change management incorporates the organizational tools that can be utilized to help individuals make successful personal transitions, resulting in the adoption and realization of change. It's the process, tools, and techniques used to manage the people side of change to achieve required business outcomes. It is the systematic management of employee engagement and adoption when the organization changes—in other words, how the work will be done.
There's a high cost to unsolved challenges. By failing to identify them early, HCM is prone to gaps between its current leadership and human capital capabilities, and the leadership and capabilities required to reach future organizational goals.
Weak change management has its ramifications. Today, more revenue than ever is spent on organizational change. With such high stakes, organizations cannot afford to fail. Enormous investments are made each year related to large scale, complex business and health care changes, such as Enterprise Resource Implementations (ERP) to new patient care models, mergers, and acquisitions. Sadly, though, the statistics around unsuccessful implementation remain high. Approximately 70% of business and health care initiatives still fall short of achieving what has been promised on time and to spec.
Such failed implementation occurs for reasons such as organizations not applying the same business-discipline when managing the human elements of change as they prepare the timeline, budget, and technical objectives of a project. Put another way, weak or poor change management exists. To get the business results and return-on-investment you identified as your goal, remain diligent with the process, rigor, and discipline that surrounds the people side of implementing change.
Weak Change Management—the Pitfalls
Implementing change requires sponsorship. It's the most critical success factor to ensure a fast, successful launch of any type of business change. It's important to not only attempt change, but to actually carry it out; otherwise, change is destined for failure.
Don't let activity seduce you. Activity (referred to as busywork) doesn't always mean that things are on track. Change management is not about keeping busy; it's about the discipline of focusing on the right actions at the right time.
Change Management needs to seamlessly blend with Project Management at the start of the project.
Change doesn't occur in a vacuum. It should be implemented in a climate that's based on what's currently going on, in conjunction with perceptions of past experiences.
Don't confuse a communications plan with an implementation plan. An implementation plan clearly identifies the responsible groups that will be completing the major tasks for each recommendation; whereas, a communication plan exclusively addresses communication expectations among various stakeholders.
Tools and checklists aren't the be all-end all. Principles need to drive/guide change, not simply complete checklists and templates.
Be Aware of Failure…Learn From It!
When an organization implements a weak change management process, money in the form of both short- and long-term direct and indirect costs to the organization are affected. When the business's objectives haven't been achieved, the short-term, direct costs are somewhat obvious. Wasted resources include money, time, and people. And, long-term, direct costs, while more subtle, encompass low morale, lack of confidence in leadership and resistance to change. Based on these factors, the next round of changes is less likely to launch.
How to Use Change Management to Win
How can the problem be fixed? Employ a structured change management model that's not a lock-step protocol (lose adherence to and emulation of another's actions). The goal of change management shouldn't be "to do" a process. Instead, it's to have core principles guide you on what you should be doing, given the day-to-day realities and challenges of the project. There's no time to do things that fail to drive you toward system optimization.
Leaders must equally understand how change is implemented and to what gets implemented.
People need to be enrolled in the change that's being implemented. When the people side is mismanaged through poor change management, it becomes a costly decision. Is that decision worth taking the chance?
Using HCM Software
HCM software refers to applications an organization can use to track, manage, and maintain its workforce. It's very effective at integrating an organization's HCM applications into one user-friendly platform and the software may be installed locally or through an online subscription service.
HCM software can help with:
Recruiting/tracking applicants
Onboarding forms
Employee profiles, performance reviews, history
Integrating with payroll, tax processing, and benefits administration systems
Employee self-service
Events dashboard
Report writing
Access 24/7 from anywhere
Secure data encryption
Implementing cloud-based HCM software saves time. Benefits include:
Easy updates and added new features.
Fewer internal technology and server resources.
Maintenance even when organizational hardware changes.
Reduced human errors that can occur when inputting data into multiple HR systems.
HCM software functions are generally organized as follows:
Core HR

, includes payroll,

benefits administration

, onboarding, compliance management, and maintenance of employee data.

Talent management

—the collective term for recruiting, developing, and retaining employees. Talent management suites consist of distinct, yet integrated modules for

recruitment

, performance management,

compensation management

, learning, and

succession planning

.
Workforce management—set of functions to deploy employees with the necessary skills for particular regions, departments, or projects. Includes

time- and attendance

-management,

workforce planning

, labor scheduling, and budgeting.
Service delivery, such as HR help desks, intranet portals,

employee self-service

, and manager self-service.
HCM suites also typically have technologies that cut across functional areas, notably analytics, social media, collaboration, and employee engagement. Many also allow mobile access to HR data and applications, especially self-service features.
In terms of technology, HCM and human resource management system (HRMS) software features are blending, blurring the function of each. The terms may soon become interchangeable; many software vendors tend to confuse or intermingle them.
Incorporate both cloud computing, databases, and other elements to handle workforce management, and include most elements found in a standard HRIS system.
HCM systems include:
HRIS capabilities and features
Employee performance and goal tracking
Onboarding
Analytics
Position control and salary planning
Access to company databases, policies and procedures, documentation, and data
Global capabilities, including multi-lingual, multi-currency, and country-specific formatting
And, HRMS products include:
Features and capabilities offered in both HRIS and HCM systems
Time and labor management (TLM)
HCM continues to transform HR, as technology-driven business models take center stage. Automating repetitive HR tasks and technologies, such as artificial intelligence (AI) and machine learning (ML), will allow HR professionals to expend less time addressing routine employee questions and more time engaging with employees and candidates.
Ultimately, whether you're looking to outsource your entire payroll and HR function, handoff some components, such as tax filing and COBRA administration, or prefer to do it all in-house, ASAP Payroll Service has a solution for you.